Late last year I started experimenting with different partlet patterns, designs and fabrics. Partlets are a great accessory to have in a sixteenth century wardrobe because they can really change the look of an outfit, and there are so many different styles depicted in portraits. I haven't managed to find that many extant examples of sixteenth century partlets; heavily embroidered coifs and camicias seem to have been saved and treasured more often. But there are some in museums, and some pictoral references to work from.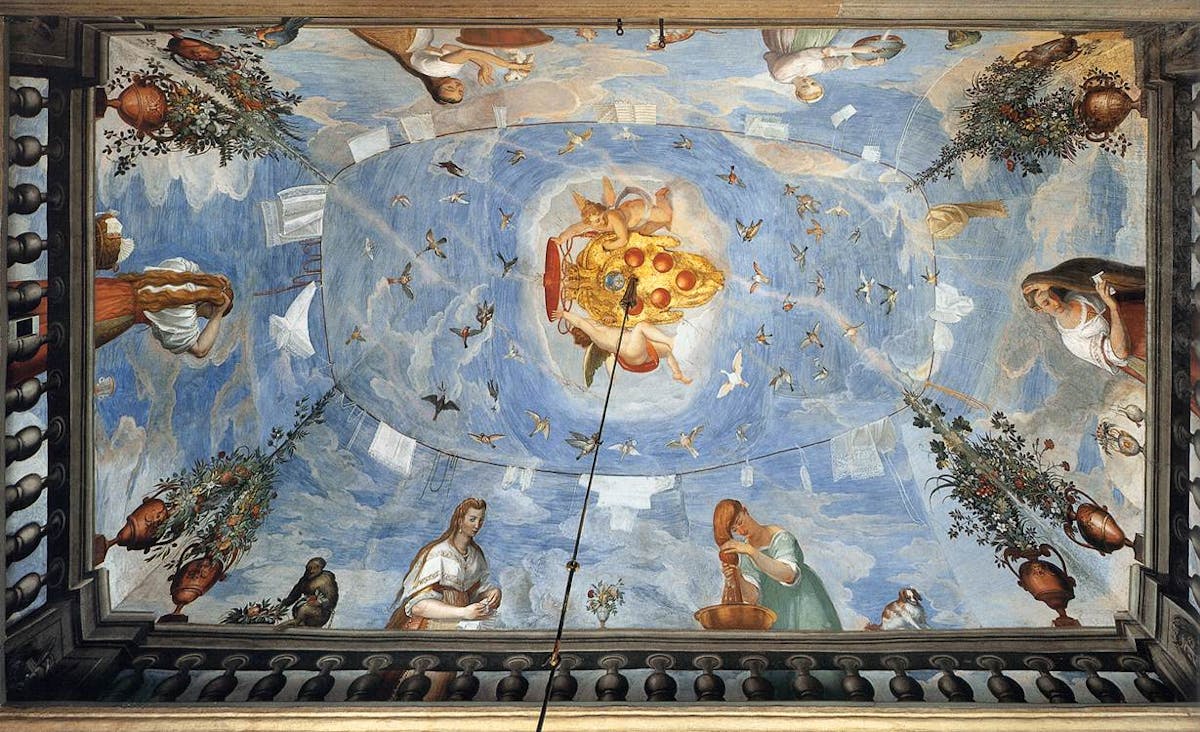 Note the partlet hanging on the line in this scene painted by Allori in the Palazzo Pitti (c. 1598)
Image from https://www.uffizi.it/en/artworks/loggetta-dell-allori
I used my trusty, decade old partlet pattern which has seams under the arms and does not need ties or pins. This may not be the most historically accurate partlet pattern, but is very useful when one does not have help to dress.
The embroidery pattern is actually adapted from a pre-sixteenth century embroidery pattern that I just really liked. I adjusted it a little and traced it onto the linen base fabric with a Frixion removable marker. I worked the pattern in stem stitch with DMC cotton floss in green. I usually work my designs
prior
to cutting and assembling the garment, but in this case I made the partlet up first and
then
worked the embroidery using a small hoop. It was an experiment to see if using the hoop over seams etc. would distort the fabric or embroidery. I also hoped it would make the design placement (in relation to the edges of the garment) more accurate. I was very careful to make sure that the tension was even when embroidering and that the fabric was not warped, and it held up very well. I was pleased with the result, and would consider working embroidery on partlets this way again (depending on the base fabric used. I don't think a loose weave linen or muslin would stand up well to being put in the hoop.)
I added some commercially produced cotton white bobbin lace along the front edges and whip stitched it down. Then I did a row of small running stitches in green along the edge of the lace. Finally I added little knotted ties of green floss on the edge of the lace to tie the whole design together. The little ties or tufts were inspired by the portrait below.
Portrait of a Woman by Giovanni Francesco Caroto
Portrait held in the Musée du Louvre, Paris
Image from https://i.pinimg.com/736x/3b/46/31/3b4631909dd5ca29fefd8032c00b4cdd--louvre-paris-the-louvre.jpg
Portait of a Lady by Andrea Piccinelli
Image from Pinterest https://www.pinterest.co.uk/pin/556687203919307155/
I was pleased with how the partlet looked and how comfortable it was.