I am hoping to make it to Midwinter Coronation in July. Now I need to plan for what I will wear......
I have a real dilemma- there are so many dresses I would like!
Heading into winter, I try not to plan anything big because my health problems are always
much
worse during the colder months. In a normal year, I am lucky if my health problems allow me to make two or three big garments like coats or dresses.
If I went for something like the dress below, I wouldn't really have to modify any of my existing dress patterns much. But I always feel more confident in slightly later styles. Plus, so many of my dresses look the same.
Lorenzo Costa's Portrait of A Lady with A Lap-Dog
I really like Bianca Cappello's style. I love most of her outfits. The only thing is that I tend to get really hot because of my health issues, so these layers might be too much. Plus the ruff may not be the most practical accessory for a busy day and night.
I really love the coat below, and I have some very similar fabric to this in my stash. But I don't think I will be able to make the coat and underdress in time. One day I will own this ensemble though. I guess I had better add 'learn reticella lace making' to my long-term plan...
Now, this one would look much better on me in a darker colour. I like the sleeves just as they are. The only problem is that I think this style would not hide my belly as much as I would like. Also, I certainly couldn't get those sleeves done in time. There seems to be some intricate decoration in the white sleeve panes. Embroidery? Maybe one day this will grace my wardrobe!
Here is a different version of the same picture (from the same site).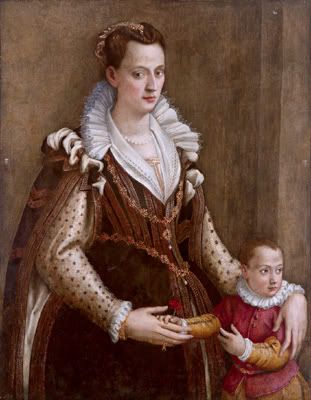 I like the 1530's big sleeve/big hat combo, and I think it looks OK on me, but I won't have time to do this sort of ornamentation. I probably won't have time to make a new balzo either. Plus, I did this style last year.
Lucretia by Lorenzo Lotto - lucyvivante.net
Bordone's Portrait of A Woman with a Child (1530s) - kunst-fuer-alle.de
One day I will own a version of the two dresses below.
Bernardino Licinio's Portrait of A Woman - terminartors.com


Another 'Portrait of A Woman' by Licinio - terminartors.com

I love this dress too, but the decorative features would take far too long to make it achievable this year.
Bronzino's Portrait of A Young Girl With A Prayer Book - allpaintings.org
Finally, I think this is probably the most realistic Italian style for me, given all the limitations that are restricting the project. I could add an overgown for the feast in the evening. I really like the parti-coloured dress, but not for this event. I won't do a reproduction; I prefer to use a portrait as a reference and an inspiration but to change colours and decorative elements to suit my personal taste, style and budget.
I haven't put in any images of loose Elizabethan coats; that was the other option. I have several loose underkirtles and many accessories ready to go. The only thing that was putting me off about that option was the fact that I really need to wear a hoop skirt to make the Elizabethan 'frocks' or loose coats look nice, and I think it will be a crowded event.
I will have to think about it a bit more....