Here is a project that I finished last week. It was a long one; I started it in November last year. It was my first try at a German beaded brustfleck. I know someone who has just started doing German garb, and who really likes squirrels. Sometimes, especially in the SCA, you meet people who really inspire you with their grace, beauty, diplomacy and tact, and this lady does. Plus, she is a whiz at all things arty and crafty, as well as being a lot of fun. So I really wanted to make her a gift.
The inspiration for this piece came from this portrait by Lucas Cranach the Elder. The lady's brustfleck (breastband) has dolphins with floral designs coming out from them.
Lucas Cranach the Elder, Portrait of a Young Woman, 1530
The portrait seems to show white beadwork over a black base design, Perhaps embroidery, or appliqued shapes. Geometric designs were popular too.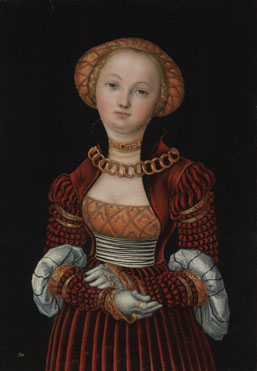 Lucas Cranach the Elder, Portrait of a Woman, c1525
from: http://www.nationalgallery.org.uk/paintings/lucas-cranach-the-elder-portrait-of-a-woman
'Judith' by Lucas Cranach the Elder
Portrait of a Woman, Lucas Cranach
Although I wear sixteenth century Italian and English styles, this Renaissance German surface decoration really sucks me in! Beads, embroidery and sparklies everywhere!
I got the measurements and some guidance for the piece from the very talented German costumer Lady Ursula Von Memmingen.
I used a piece of black velveteen supported with felt as the base fabric. I drew a design on tracing paper and tacked it onto the velvet. I ripped the paper away to reveal the stitching guidelines. Then I worked chain stitch over the guidelines, pulling the tacking out from the back. The squirrel shapes were cut from felt and stab stitched down.
When I added the large seed beads, I strung five or so onto a thread, anchored it twice and then moved on to the next block of five. When a whole row was done, I went between each bead and anchored them individually. I was very thorough about this, because it is easy to knock or bang your chest area when talking, dancing etc, and I didn't want to risk any of the design coming off with wear and tear. For the same reason, I knotted off the stitches on the back very often. It made for a messy back of the piece!
I was happy with this construction technique, except for the straight lines around the design which I did right at the end of the project. The extra anchoring stitches seemed to distort the design, and I lost my lovely straight lines. I think that the irregular nature of the beads contributed to this as well.
Before settling on flowers made of white and gold seed beads and leaves made of glass, I tried out a few alternative ideas using commercially available beads.
Rose glass flower beads and green glass leaf beads
Mother of pearl leaf beads
Metal leaf beads
Split stitching the squirrel body over the felt shape.
The finished item prior to making up
A completed split stitch squirrel with grey seed bead eye
The finished piece. It is designed to be pinned into place.