10:45AM GMT 04 Feb 2013
From:
The Telegraph
http://www.telegraph.co.uk/news/uknews/9846722/Richard-III-remains-found-in-Leicester.html
"Scientists say they have found the 500-year-old remains of England's King Richard III under a parking lot in the city of Leicester.
University of Leicester researchers say tests on a battle-scarred skeleton unearthed last year prove "beyond reasonable doubt" that it is the king, who died at the Battle of Bosworth Field in 1485, and whose remains have been missing for centuries.
"Richard III, the last Plantagenet King of England," has been found," said the university's deputy registrar, Richard Taylor.
Osteologist Jo Appleby said Monday that the study of the bones provided "a highly convincing case for identification of Richard III."
And DNA from the skeleton matches a sample taken from a distant living relative of Richard's sister."
Image of Richard III of England from: news.com.au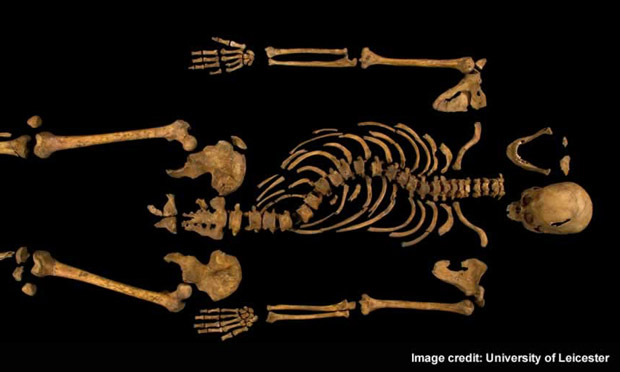 The skeleton of Richard III. Photograph: University of Leicester from
http://www.guardian.co.uk
site.
Find more interviews and news on the subject here:
http://www.guardian.co.uk/science/blog/2013/feb/04/richard-iii-skeleton-last-plantagenet-king-live
http://www.dailymail.co.uk/sciencetech/article-2201744/King-Richard-III-Search-body-finds-human-remains-grave-stood-1612.html
http://www.news24.com/SciTech/News/Bones-hold-clue-to-King-Richard-III-20121015