I needed a new tourney dress, and wanted one that I could wear without a corset. (My health problems mean that often I can't wear very restrictive garments like a corset, and sometimes one just needs to be able to do more than a corset allows.) I decided that a short-waisted Italian style like those popular around 1500 would be ideal.
'The Betrothal' by an Unknown Artist c. 1490
from:
http://www.oceansbridge.com/oil-paintings/product/93934/dieverlobungenglishtitlethebetrothal
'The meeting of the betrothed couple' by Carpaccio c. 1495
from:
http://www.oceansbridge.com/oil-paintings/product/54796/carpacciomeetingofthebetrothedcoupleandthedeparture
'Portrait of a Venetian Lady' in the style of Albrecht Durer
from:
http://www.artnet.com/magazineus/features/jeromack/velazquez-rediscovered12-16-09_detail.asp?picnum=8
Detail of "The Legend of St Ursula' by Carpaccio, 1495-1500
from:
http://tomclarkblog.blogspot.com.au/2013/01/john-ruskin-on-carpaccios-dream-of-st.html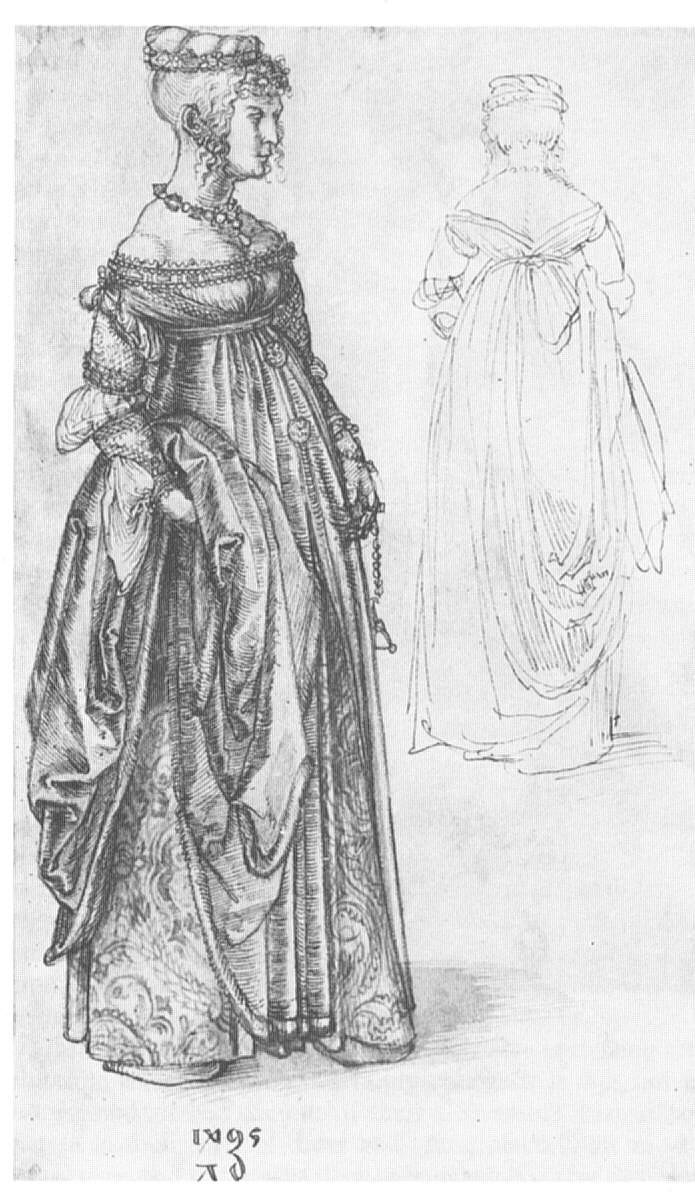 Drawing of a Venetian Lady by Albrecht Durer 1495
from:
http://www.uvm.edu/~hag/sca/16thital/durer-vene1495-1.jpg
I had some purple drill that would be ideal for the project. I adapted one of my existing Italian patterns, reducing the length and making it front-lacing for ease of dressing. I usually wear a pair of boned bodies under my gowns, but for this one I decided to bone the gown bodice itself.
I used a cotton canvas interlining and a new type of plastic heavy duty boning that I have not tried before. I machined casings in the interlining fabric and used fourteen plastic bones. The top edge was machine stitched, but I did the rest by hand.
I added a black feature panel at the front of the gown and edged it with black bias tape and hand dyed brown ric rac braid. I did a running stitch along the bias in a matching brown embroidery floss, and added detached button hole stitch ovals between the peaks of the ric rac braid. (I opted not to use the additional purple braid shown in the picture above.)
The skirt was pleated on and secured with a line of machine stitching for extra strength (as I have a habit of stepping on my skirts when carrying tourney furniture to the car.) I tacked the bodice together before hanging the gown up for the hem to drop. After it had hung for a few weeks, I secured the bottom edge of the bodice with hand stitching.
The next step was to add eyelets for lacing and lucet some cord to lace with. I added some hooks and eyes and a modesty placket. I finished the embroidery on the skirt trim and whip stitched the front edge closed.
The skirt has a much smaller hem than usual. I will probably add a hem guard in the future for extra durability. I am also working on a set of tie-on sleeves.
The gown is very comfortable and easy to move in. I will post photos when it is totally finished.